We are CLOSED until March 21st
Each bicycle rebuilt and tested by an expert
Modern bicycles and stunning vintage bikes
30 day warranty
FREE DELIVERY IN MONTREAL
Select a bike type below or
all for sale
Learn
about the different bike types
and which is the right one for you.
HOW TO PURCHASE

How to Buy
---
1 - Select Bikes for Sale
---
2 - Phone to Fix an Appointment
---
3 - Delivery and Test Drive
---
4 - Accessories Available
---
5 - Payment
---
6 - Warranty
---
The bikes sold here
and the service you receive
---
Where is the Shop
---
About Stéphane Lapointe

450-764-9226
velo@stephanelapointe.com
1 - SELECT BIKES FOR SALE
2 - FIX AN APPOINTMENT
3 - DELIVERY AND TEST DRIVE
4 - BIKE ACCESSORIES AVAILABLE
5 - PAYMENT
6 - WARRANTY
If your bike was stolen in Montreal
Read this section for basic info but you will find much more information on the French version "Les vols de vélos à Montréal"
If your bike was stolen you should first report it to the police. If the bike is found by the police, which is rare unfortunately, it might be returned to you. To do a report online visit SPVM Montreal Police web site
Check with your home insurance to know if it is worth claiming the value of the bike.
Protecting yourself against bike theft
Always use a good quality U-lock ($25 or more) and always attach it to a solid object, not a wire fence for example.
Never use a chain or a cable
Take note of the serial number, keep the invoice, take pictures of the bike. This helps your insurance claim and the police investigation if stolen.
To reduce the risk of theft and increase the odds that the bike will be returned if found by police anywhere in the province, you should register your bike at www.veloretour.ca. A Velo Retour sticker is available from some bike retailers at a cost of $5 for 3 years.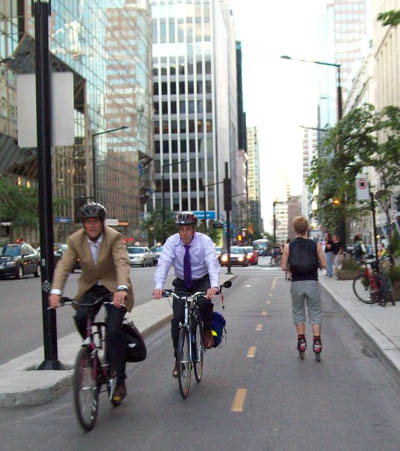 Are you shopping for a bike to commute everyday ? You don't want any low quality toy bike because you will count on it to get to work or school and everywhere else. A new bike is too costly and risky because it will stay parked outside. You are ready to compromise on the look of a used bike, but it must be reliable, comfortable, safe and efficient. You want a warranty to be sure you won't loose time and money fixing a bike sold 'as is' elsewhere more..